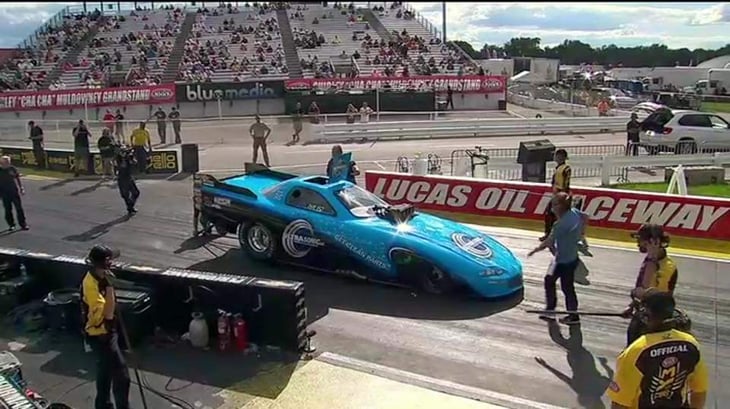 UltraSonic LLC President Phil Esz shares his on-track experience and talks about how ultrasonic cleaning benefits all automotive applications.
On a hot early September morning, UltraSonic LLC president Phil Esz arrived at the 62nd Annual National Hot Rod Association (NHRA) U.S. Nationals competition in Indianapolis, Indiana. Phil, a longtime high-performance racing veteran, had a big day ahead of him. In a few short hours, he would take to the track in his top alcohol funny car and begin his first U.S. Nationals race within the NHRA's esteemed Pro Sportsman class.
The U.S. Nationals is the Super Bowl of drag racing—the big kahuna; the one race that earns a circle on every high-performance racer's calendar. When Phil pulled his funny car up to the starting line, and the starting light turned green, he stomped on the accelerator and worked up a G-force of 3.7 in short order as he accelerated to speeds of more than 240 miles per hour. Phil was flying down the track at speeds you and I will probably never experience—and then, 5.7 seconds later, the funny car's chutes deployed, the G-force sank to minus 2.5, and it was all over.
Bring up ultrasonic cleaning with Phil, and he'll talk about it with a passion that quite possibly is unrivaled in the high-performance cleaning industry. Yet Phil's passion for ultrasonic cleaning is equally matched by his passion for racing. What began as a hobby with his father at age 15 has evolved into a life-long pursuit that brings Phil and his entire family immense joy—and has also earned him acclaim for his on-track performance.
Whether it's working on his dragster or now, his funny car, Phil relies on the power of ultrasonic cleaning to keep his engine parts as clean as they can be. Whenever he races, Phil takes an UltraSonic LLC TableTop 2000M 5.2-gallon ultrasonic cleaning machine with him to the track. The weekend before the U.S. Nationals, he rebuilt a transmission at the track and used his TableTop 2000 to clean the internal transmission parts. At the U.S. Nationals, he again used the TableTop 2000 in the pits to clean parts such as brake calipers, control arms, steering components, rear end gears, spindles and more.
At the end of the day, clean parts are what UltraSonic LLC's ultrasonic cleaning machines deliver. For racing applications, cleanliness is vitally important. When cars travel at very fast speeds and generate tremendous horsepower, racing teams must ensure that their parts are operating at optimal levels of performance, and that means they must be precision clean.
Many racing teams simply spray brake cleaner on parts to blow the dirt off of them. That works to some degree; but it won't clean all the nooks and crannies and crevices within intricate engines. At $3 per can, it's also relatively expensive, given the number of cans that can be used for large-scale cleaning applications. Brake cleaning – not to mention solvent cleaning – is also time intensive, and racing is all about saving time, on and off the track. Lastly, brake cleaner comes in aerosol cans, which is not environmentally friendly—and certainly not to the degree that the soap and water used in ultrasonic cleaning is.
In fact, Phil himself has used brake cleaner on parts, then put those same parts in an UltraSonic LLC tank only to see lots of additional dirt removed from those parts as a result of the UltraSonic machine's cleaning power.
Clean automotive parts aren't just important for racing applications. All industries that rely on vehicles – from trucking/transport to public transportation, sanitation and more – need engine parts that are clean in order to help ensure smooth operation of vehicles. And if racing's top national teams embrace ultrasonic cleaning, then that speaks volumes about its value for other applications.
In reflecting on what makes racing so special to him, Phil returns to two familiar themes: family, and his love of building things. "Drag racing is a family activity, and first and foremost, that's the big payoff," he says. "Lauren [DW1] is the number-one crew member on the car—she can do pretty much anything on that car. My son Tristan [DW2] is right in there helping us too, and we have friends as well who help out. It takes a team effort to pull the whole thing off. I'm just the lucky guy who gets to drive it.
"Also, I get great satisfaction from being able to build my own engines, assemble the car, put everything together, and then take it to the track and put it to the test," Phil adds. "We've run a lot of races with our dragster. Our NHRA race is the first one with our funny car. To be able to go out and compete, do well, and see what you've accomplished is gratifying. It's a lot of work—we've run 5.7 seconds in a quarter-mile at 241 mph, and for that 5.7-second ride, it takes two hours to get it ready. But it's very satisfying."
If you have questions about automotive or industrial parts cleaning methods or automotive or industrial parts cleaners – or if you would like information about ultrasonic cleaning for automotive or industrial applications and UltraSonic LLC cleaning machines, fill out this contact form, and an UltraSonic LLC representative will be in touch shortly to discuss your requirement.