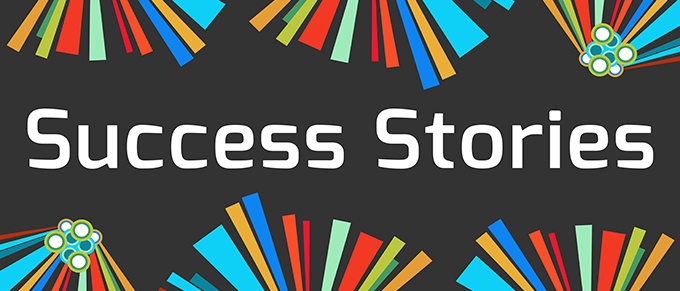 There's nothing like a good success story to effectively sell the merits of a company, its products and its services. At UltraSonic LLC, we believe that ultrasonic cleaning is the most economical and effective way to clean industrial, automotive, aerospace and medical parts—and we believe that our ultrasonic cleaners are the machines you can rely on to do the job right.
In our past blogs, we've presented fact-based information about how ultrasonic cleaning works, how ultrasonic cleaners stack up against alternative cleaning methods and the distinct advantages of UltraSonic LLC parts washers.
Still, our customers remain our greatest champions, so in this post, we've compiled some recent success story snippets. We hope these give you a good sense of just how effective our parts cleaning machines are in helping many businesses get even their dirtiest parts clean every time.
Note that for most of the success stories below, we've included a brief synopsis. Please click on the link to read the full success story.
Ultrasonic Cleaning for Automotive Parts – BES Racing Engines
Tony Bishoff, the owner of BES Racing Engines in Guilford, IN, is a four-time Engine Master Champion and engine builder of record-setting and class championship racing engines for several sanctions.
Tony purchased an UltraSonic LLC Ultra 3222F. Six months later, he upgraded to the Ultra 3800FLT for "final cleaning" the components of his team's winning racing engines. "We have seen big improvements in how the cylinder walls of our blocks are cleaned and have profited two hours of labor in cleaning time for a complete engine rebuild," he said. "Ultrasonic cleaning has given us a cleaner final product."
---
UltraSonic LLC Cleaner Revs Up Learning for Automotive Students
Macomb Community College students learn first-hand about all things automotive while earning their associate degrees in automotive technology. In well-equipped lab settings, which are essentially top-of-the-line, full-service auto repair shops, they put theory into practice diagnosing and repairing brakes and suspensions, electrical and air conditioning systems, drivelines and engines.
With a full machine shop that includes an RMC V-20 CNC machine center, rebuilding automotive engines is a substantial portion of the students' lab work. They get their hands dirty in every aspect of the process—from diagnostics to estimating parts and time required, to the actual removal and rebuilding of engines and components. A new ultrasonic cleaner from UltraSonic LLC is helping to get components cleaner, and speed the process of rebuilds so students can spend more time learning, not cleaning.
Read the entire success story here.
---
UltraSonic LLC Cleaner Lets Bubbles Do the Work
Cleaning injection molds is a time-consuming, labor-intensive process that requires patience, attention to detail and elbow grease—lots and lots of elbow grease. At PVS plastics in Huber Heights, Ohio, rags and steel wool pads are being replaced with bubbles, and elbow grease is being replaced with a simple push of a button—resulting in much cleaner molds in a fraction of the time.
Jesse McIntosh, a Mold Maintenance Technician at PVS Plastics, knows that if the mold isn't maintained properly, the process mass produces rejects.
"The dirtier a tool becomes, it starts to impact the parts being made, and a lot of the parts that we run are wheels that need to be balanced," he said. "So if the tool becomes too dirty, the balance will start to go out, and the parts will be rejected. It's very important to keep all of our tools as clean as possible to keep them running smoothly."
McIntosh was spending four hours disassembling and scrubbing each part of each mold with little more than some scouring pads and rags. The result was passable, but not exceptionally clean. It was, however, exceptionally time consuming—until he rented an Ultrasonic LLC ultrasonic cleaner. PVS' mother company had been using ultrasonic cleaners for some time, so McIntosh researched local options and found UltraSonic LLC. By employing ultrasonic waves and micron-sized bubbles rather than elbow grease, the process is more efficient—molds are cleaner and the preventative maintenance is faster than ever before.
"The Ultrasonic cleaner helps us tremendously—it's like having an extra half of a person when it comes to pay." McIntosh said.
Read the entire success story here.
---
Cleaning Pizza-Making Machinery
Anyone who's ever tried to make pizza knows it's a mess; the gooey cheese sticks to baking and cutting surfaces, the dough dusts everything in sight, and the sauce drips onto counters and ovens. AM Manufacturing Company is well-acquainted with the mess—the company makes, sells and refurbishes the equipment that allows for high-production of frozen pizzas. Their parts and machines are used by most of the big names in the frozen pizza market.
For AM, cleaning the equipment was such a monumental task that the employees simply didn't want to do it. And with clients from big-name frozen pizza companies coming in to tour their facilities, it was essential that their equipment and parts were clean. For years, AM employees soaked parts in soapy water and then scrubbed away grime. It was hard work, and employees hated doing it. Even when equipment and parts were thoroughly scrubbed and soaked, built-up deposits of oil and dough remained in hard-to-reach crevasses.
Mark Van Drunen, president of AM, knew that there had to be a better cleaning solution. His research lead him to UltraSonic LLC, so he arranged to send them some test parts to clean. The parts came back so clean that Van Drunen was initially skeptical. That, coupled with the cost of the machinery, prompted him to request a rental unit to prove out the ultrasonic technology at AM's facility. Because the appropriate machine was not in stock, renting one wasn't an option, but UltraSonic president Phil Esz said, "If the machine doesn't impress you, we'll take it back."
Read the entire success story here.
---
If you have questions about industrial parts cleaning methods or industrial parts cleaners – or if you would like information about ultrasonic cleaning for industrial applications and UltraSonic LLC industrial cleaning machines – fill out this contact form, and an UltraSonic LLC representative will be in touch shortly to discuss your requirement.